We have two new upcoming shows to announce.
On Saturday, May 20th we will be playing at The New Tops Of Windsor with The Trudys, Danial Malik and The Feedbacks. For those of you who don't know, The Trudys are an excellent 3 piece female supergroup comprised of Casie (formerly of Black-Eyed Susan), Kait (formerly of The Infidels) and Renee (from The Dirty River Band pulling double duty for this show). This is going to be an excellent show and I advise you all to not miss it!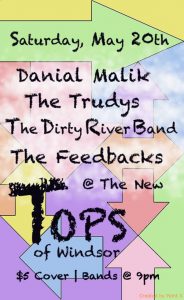 On Friday, May 26th we will be playing at Glass Monkey Studios with Crissi Cochrane, Soul Brother Mike and Spenny! This show is to commemorate the first anniversary of the excellent TheAVB podcast. There will be a live taping of the podcast with guests Tony Lee, Tony Gray and Spenny. Tickets for this are $10 and can be purchased through A.J. from TheAVB. Get ahold of him if you would like some.